Charlie Luh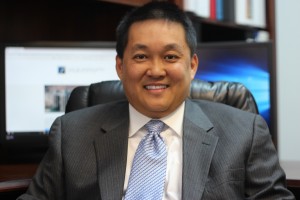 Charlie Luh is a founding partner of Luh & Associates. Charlie has extensive experience and expertise in construction defect litigation, general liability defense, commercial collections, consumer bankruptcy, and complex class‑action lawsuits. Charlie has represented subcontractors on over 250 litigated matters and has participated in one of the first construction defect trials in Clark County, Nevada, which resulted in a favorable defense verdict. Due to his success as defense counsel, he has been asked to serve as personal counsel to a number of Las Vegas subcontractors.
Charlie has also lectured before numerous bar associations and trade organizations on bankruptcy and the effective use of new technologies in the practice of the law. Charlie has also been ranked by his peers in the Nevada Business Journal as one of Nevada's Legal Elite. Charlie has attained an AV rating (5.0 out of 5.0), the highest rating bestowed by Martindale Hubbell® and has been selected and recognized as a Mountain States Super Lawyer®.  Charlie currently serves as an Arbitrator in the State of Nevada Court Annexed Arbitration Program and as a Mentor in the State Bar of Nevada Transitioning into Practice (TIP) program.
Charlie also serves on the Board of Directors for the 1000 Books Foundation (a non-profit 501(c)(3) public charity), which operates the nationwide 1000 Books Before Kindergarten early literacy challenge.  In addition to traveling around the country to speak at legal seminars, Charlie also speaks frequently on behalf of the 1000 Books Foundation.
Charlie earned a Bachelor of Arts degree in Economics from The Johns Hopkins University in 1993, and a Juris Doctorate from the University of Iowa College of Law, where he graduated with distinction. After law school, Charlie served as a judicial law clerk to the Hon. Lee M. Jackwig, United States Bankruptcy Court, Southern District of Iowa. He is licensed in both Nevada and California.
Representative case experience includes the following: Successfully limiting a client's damages in a slip and fall case in Ittner v. Hallmark, Inc., Case No. CV00-04574 (Dept. 9 Reno Nev. 2000); a 4-month jury trial in a multi-million dollar action where he represented a roofing subcontractor and obtained a favorable defense verdict in The Falls Homeowners Association v. Capital Pacific Homes, Case No. A410326 (Dept. 11, Las Vegas Nev. 2001); obtained summary judgments in Star Building Systems Robertson-Ceco v. Glen Green Building Services, Case No. A422886 (Dept. 8, Las Vegas Nev. 2001) and St Paul Fire and Marine Insurance Co. v. Galaxy Expo Services Inc., Case No. A434979 (Dept. 19, Las Vegas Nev. 2002); successfully obtained 100% recoveries in breach of contract actions in Rosiek v. Peterman, Case No. A471937 (Dept. 15, Las Vegas, Nev. 2003) and Barnes v. Nevada Resort Properties Polo Towers, Case No. A474970 (Dept. 3, Las Vegas, Nev. 2003); obtained a complete dismissal for a products manufacturer in Castro v. Howard Hughes Corporation, et al., Case No. A487037 (Dept. 3, Las Vegas, Nev. 2005); a 3-month jury trial in a multi-million dollar action where he represented a deck/waterproofing subcontractor and obtained a favorable defense verdict in Gunderson, et al. (High Noon) v. D.R. Horton, Case No. A495059 (Dept. 1, Las Vegas, Nev. 2008); a 1-month jury trial in one of the largest class action cases in Nevada's history where he was able to limit Class Plaintiffs' recovery in In re Kitec Litigation, Case No. A493302 (Dept. 16, Las Vegas, Nev. 2009).
Reported Cases:
Reyburn Lawn & Landscape Designers, Inc., v. Plaster Development Company, Inc., 255 P.3d 268 (Nev. 2011) (successfully reversing the trial court's summary judgment whereby the Nevada Supreme Court established that than an indemnity clause must unequivocally set forth an obligation to indemnify another for its own negligence in order to trigger any obligation; this case abolished the "last man standing" principal and established that liability for fees and costs must be attributed and allocated to the subcontractor's work).